Home
>
Products
>
Trampoline accessories MASTERJUMP®
>
Safety net for trampolines
Safety net for trampolines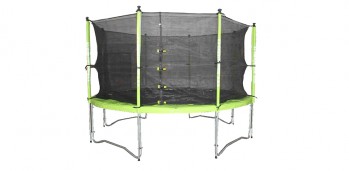 Proč zakoupit ochrannou síť na trampolínu?
Main function of safety net is avoid falling down from trampoline and protect you and your children against possible injury.

 
Main description of safety net for trampoline
inside or outside connection net to trampoline
net prevents falling off the trampoline and possible injury
Heavy Duty galvanized steel tubes with non corrosive surface
Net is extremely durable and UV resistant
entrance hole is with zip fastener
high quality with long service life
net high around 2 m
Do you want to buy safety net for trampoline?
Go directly to category trampoline accesorties in our eshop.
Manuals for safety net of trampoline MASTERJUMP:
Manual for safety net of trampoline MASTERJUMP®
See our picture gallery: